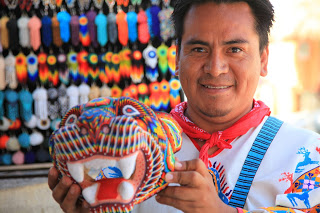 A Glimpse into Riviera Nayarit's Huichol Festivities
Sacred rituals, unique traditions and encounters with the destination's native Huichol community promise an unforgettable cultural celebration this holiday season
RIVIERA NAYARIT, MEXICO (November, 2019) – In the spirit of the giving season and paying homage to tradition this November, Riviera Nayarit, Mexico's Pacific treasure, invites travelers to join in the celebrations as it honors its unique Huichol community.
The Huichol – or Wixáritari which means "the people" in their native language – are an indigenous group that live in the foothills and highlands of the Sierra Madre Mountain range, comprised of the states of Nayarit, Jalisco, Durango and Zacatecas. Historically known for resisting all forms of colonialization of their people and land, including the Spanish Invasion and fall of the Aztec empire, the Huichol continue to hold their pre-Colombian traditions and rituals as sacred, and are regarded as a North American tribe that has continued to remain true to its ancestors.
Their unique lifestyle, humble culture and vibrant art offer North American travelers a fascinating educational and cultural experience.
Arts and crafts
Described as a "portal on nature," Huichol art takes many forms such as weaving, embroidery, votive offerings, chairs, basketry, musical instruments and sculptures, and is well known for its quality beadwork that uses traditional methods. This artistic legacy has been recognized by travelers and leading museums around the world for its unique, intricate and colorful perspective on human culture and its relationship to nature.
Huichol-made bags, hats, pens and other woven objects make the perfect souvenirs for travelers visiting the destination and can be easily found in many stores throughout the region, including Revolucion del Sueño in boho-chic, surfer town Sayulita and The Hikuri Huichol Gallery in family-friendly Nuevo Vallarta. Local businesses and hotels also recognize the beauty of this art. For example, the luxurious W Punta de Mita features lucha libre masks and papel picado folk art décor and is home to a colorful Camino Huichol walkway that depicts and celebrates local wildlife and culture.
Rituals and traditions
The Huichol way of life is rich with sacred rituals and ceremonial practices. There are specific ceremonies for each of the seasons and each revolve around their four main deities – Corn, Blue Deer, Peyote or cactus and the Eagle, all which descended from the Sun God, creator of all creatures. One of the most important ceremonies is the Dance of the Deer, where they dance their prayers into the altar of Mother Earth and connect with the Deer Spirit, the most important Huichol animal power.
Travelers staying at select hotels in Riviera Nayarit get to experience some of these rituals and connect with the native community in distinctive ways. For example, properties like the Four Seasons Punta Mita and Grand Velas Riviera Nayarit offer a Huichol-inspired wedding ceremony, where the Huichol Marakame or shaman marries the couples' souls and the symbols of corn, copal, eagle and hawk feathers take center stage. Similarly, the Grand Velas offers the Healing of the Soul ceremony, a sacred ritual where guests, alongside natives, pray to the Huichol gods for health, harmony and peace.
Cultural preservation
The Huichol culture is an important part of the Riviera Nayarit experience for travelers, and there are several destination-wide initiatives in place that spur cultural preservation and sustainable growth for the native community. One of the main ways the destination does this is through the Huichol Tour, which takes travelers behind the scenes to experience the villages, ceremonial sites, rituals and traditions of the Huichol first-hand.
Hotels play their part too. For example, Dreams Villamagna Nuevo Resort & Spa, recognized by the Rainforest Alliance™, respects the ancestral culture associated with the Huichol, as the property was built in an area they used to call home. The native's language, culture and spirituality play a significant role in the Dreams Villamagna experience with Huichol crafts and rituals being popular activities among guests. Riviera Nayarit is also home to the Huichol Center for Cultural Survival, an organization that generates working strategies and programs to address the economic, educational and health issues facing the Huichol community as they work to maintain their cultural identity and homeland.
Regardless of the town of choice, travelers seeking to immerse themselves in a new culture this holiday season can head to Riviera Nayarit, where they are guaranteed to find the Huicholes adorned by their crafted jaguars, peyotes, blue deer and corn, in every town square.
###
About Riviera Nayarit
Renowned for its eclectic charm, luxurious hospitality and authentic appeal, Riviera Nayarit has earned global recognition as the Pacific Coast's treasure destination. Situated within Mexican state Nayarit, the region offers 192 miles of pristine Pacific coastline, the wondrous Sierra Madre Mountains, the spectacular Banderas Bay and endless protected natural marvels. Riviera Nayarit is home to resort town Nuevo Vallarta, historic village San Blas, exclusive celebrity haven Punta de Mita, "boho-chic" surf mecca Sayulita and a variety of picturesque fishing villages. Activities abound from world-class golf courses, zip lining, diving and surfing to bird watching, whale watching and turtle release programs. Riviera Nayarit boasts four AAA Five Diamond hotels, 11 AAA Four Diamond hotels and 13 AAA Three Diamond hotels with accommodations range from luxury branded resort destinations and family friendly all-inclusives to intimate boutique properties and everything in between. Rounding out the destination's allure, superior quality international gastronomy awaits including a AAA Five Diamond restaurant, six AAA Four Diamond restaurants and 26 AAA Three Diamond restaurants. Riviera Nayarit is just 10 minutes north of Gustavo Diaz Ordaz International Airport (PVR).
To discover the Pacific Coast's treasure destination, visit www.RivieraNayarit.com or follow Riviera Nayarit on Facebook, Twitter @riv_nayarit and Instagram @riviera_nayarit.
Media Contact:
Diana Arellano
Diana.arellano@newlink-group.com
305.702.2776
https://blog.rivieranayarit.com/wp-content/uploads/2020/07/RivieraNayarit_Culture_Huichol04.jpg
213
320
Enrique Topete
https://www.rivieranayarit.com/wp-content/uploads/2019/07/logox300.jpg
Enrique Topete
2019-10-28 15:45:04
2020-07-14 07:46:37
A Glimpse into Riviera Nayarit's Huichol Festivities