DISCOVER THE UNDISCOVERED IN RIVIERA NAYARIT
Riviera Nayarit, Mexico -
Famed for its luxurious resorts and wonderful nature experiences, Riviera Nayarit, still has miles of little known territory holding hidden treasures such as the longest beach in Mexico, a posh mountain lake getaway, indigenous communities brimming with history and art, the island home of the Aztec people, a rarely visited archeological site and charming colonial towns.


Santa Maria Del Oro

The Sierra Madre Mountains dominate the Riviera Nayarit skyline, but they also conceal an alluring lake region surrounded by private residences and intimate upscale accommodations such as the Santa Maria Resort Hotel with 20 beautifully designed cabins for up to six guests, set in a beautiful garden setting beside the lake. Ideal for a destination wedding, the entire resort can be reserved for a wedding party of 94 people including children. Lakeside restaurants serve the area's famed chicarron de pescado. Only 33 miles from Tepic (Nayarit's Capital), Santa Maria de Oro is an intriguing start to a long stay in Nayarit and a fresh complement to the destination's waterfront options.
Insider Tip: Fly into Tepic and make a pit stop at Emiliano
Comida y Vino
to treat your taste buds with finely prepared Mexican dishes such as Chamorro en Barbacoa and Chile Ancho and Black Sesame Seeds Crusted Tuna Medallion.
Tawexikta Lugar Del Sol (The Place of the Sun)

Riviera Nayarit is home to four indigenous tribes that still live their traditional lifestyle. It is possible to visit one tribe, who live in Tawexikta. Accessible only via a high-bow motorboat, known throughout the region as a panga, and certainly off the beaten path, the Huichol Indian village is called Tawexikta, known as the Place of the Sun. Here, visitors who enjoy experiencing traditional cultures can peek into the lives of the native tribe by witnessing their ritual dances or shopping directly from Huichol women for their intricate artisan work. The Huichol beaded masks, necklaces, animal figures and masks have become a recognizable symbol of Riviera Nayarit.
Insider Tip: For a completely immersive cultural experience, there are a handful of simple cabins available for visitors to spend the night at the Huichol village. Meals prepared by the Huichol included.


Playa Novillero

The longest beach in Mexico, 92 miles of unspoiled coastline, is located at the northernmost point in Riviera Nayarit. Gaze at seemingly perpetual palm trees and hammocks under the shade of palm huts while sipping a beer in solitude. Small beach restaurants serve the region's famed Sarandeado-style grilled red snapper that is smoky and covered with chili, limes, mustard, and butter.
Insider Tip: Ideally a day trip from Tepic or San Blas, visitors can stay hydrated by sipping on coconuts fresh off of a burro (donkey) cart.


Los Toriles

The only archeological site in Nayarit open to the public is located just 6 miles from Ixtlan del Rio. Dating from 300-600 BC, it has over 85 buildings although only a few are excavated. You can see four wide plazas and several palaces. Also, you can explore shaft tombs and temples, including one of the only round temples in Mexico.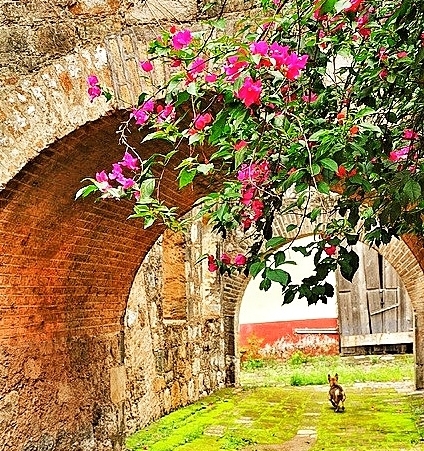 Bellavista
Quite literally a time capsule, Bellavista was built around a now closed textile factory that was a brick-for-brick replica of its Belgium counterpart. Erected in 1841, this once bustling factory town now shares an eerie glimpse into pre-war Europe and the little known trade roots of Nayarit. It now rests as a historic marker and a beautiful photo opportunity.
Insider Tip: Hang around the factory long enough and you will run into Juan Caña Stephens, a long-time groundskeeper who can recount the history of the building and its importance to this region of Mexico.

Mexcaltitan
The adventure to Mexcaltitan begins with a 25 minute
panga
ride through estuaries, islets, coves and mangroves. Thought to be the first home of the Aztecs that founded Tenochtitlán (known today as Mexico City), this island is sometimes referred to as the "Venice of Mexico" due to narrow streets that also serve as canals seasonally. Primarily a shrimping community, shrimp is left to dry on the raised sidewalks to be made into a zesty, mouthwatering variety of dishes and snacks, with many recipes dating back to pre-Hispanic times. A local favorite is the
shrimp based Mole – thickened with raw tortilla dough
called Taxtihuil.
Insider Tip: Dried shrimp is crunchy like a tostada and consumed head and all! This small island can only be explored on foot or by boat (seasonally) and the majority of restaurants are unnamed yet serve delicious fresh catch.
For more information about Riviera Nayarit and its towns, visit
www.rivieranayarit.com
.
About Riviera Nayarit

Mexico's newest destination, Riviera Nayarit, stretches along 192 miles of pristine Pacific coast framed by the majestic Sierra Madre Mountains just ten minutes north of accessible Puerto Vallarta International Airport. The region extends along the entire coast of the Pacific state of Nayarit including the resorts of Nuevo Vallarta, the historic colonial town of San Blas, exclusive Punta Mita, picturesque fishing villages, miles of serene beaches and spectacular Banderas Bay. Riviera Nayarit offers countless activities, such as: PGA golf courses, luxury spas, whale watching, turtle release, zip lining, surfing, bird watching, international cuisine, and the local artwork from the traditional Huichol tribe. Riviera Nayarit is recognized as a "Virtuoso Preferred Destination" and was named by Frommers, Huffington Post, and Oyster in their lists of "Top Destinations" for 2014. The region attracts and satisfies vacationers of all tastes and budgets with its wide range of accommodations including chic luxury resorts, eco-tourism boutique hotels and quaint B&B inns. For more information, visit www.RivieraNayarit.com or follow Riviera Nayarit's Fan Page on Facebook

CONTACT:
M. SILVER – A Division of Finn Partners
Tel: (212) 715-1600
Maria Castro, ext. 6317
Maria.Castro@finnpartners.com
Delfina Güemes, ext. 6316
Delfina.Guemes@finnpartners.com